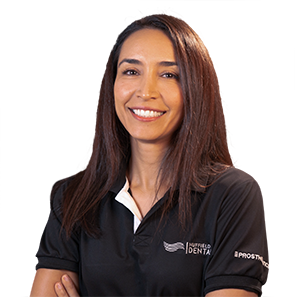 Hi there,
I'm Dr Mona Board
DENTAL SURGEON

Dentistry (BDS) from UK

About
Education & Achievements
Dr Mona Board graduated in 2002 from the world-renowned King's College School of Dentistry, London. She went on to work in general dental practice in London, UK and in Geneva, Switzerland, where she opened her own clinic, before moving to Singapore in 2015.
Services Provided
Dr Mona takes a biological approach to dentistry and has studied nutritional and environmental medicine at ACNEM. She has completed her accreditation with the International Academy of Biological Dentistry and Medicine.
Dr Mona prefers a minimally-invasive, holistic style of treatment for general and cosmetic dentistry, always using the safest techniques for her patients. She uses Invisalign, Myobrace and other Myofunctional and craniodontics techniques, lumineers and laminate veneers, safe mercury amalgam removal (SMART protocol). Dr Mona was taught adhesive dentistry by the highly regarded dentist, Dr Didier Dietschi in Geneva.
Dr Mona has a keen interest in dental sleep medicine, treating patients who snore and who have obstructive sleep apnea.
Dr Mona's post-graduate education has been honing her skills to become an integrative dentist who is able to provide as many holistic and biological dental treatments to her patients as possible here in Singapore.
Working at Nuffield Dental allows Dr Mona to have the highest quality and most up-to-date materials and equipment required for biological dentistry treatments.
Memberships
Dr Mona is a member of:
SDA (Singapore Dental Association).
ACNEM (Australasian College of Nutritional and Environmental Medicine).
IAOMT (International Academy of Oral Medicine and Toxicology).
IABDM ( International Academy of Biological Dentistry and Medicine), where she has also completed her accreditation exams.
Additional Areas of Interests
Dr Mona speaks English, French and Arabic. She has a keen interest in nutrition and loves nothing more than cooking for family and friends, she also has a special interest in energy medicine, qigong and meditation.
Articles
The latest and best lifestyle articles selected by our editorial team.
Veneer is a cosmetic dental procedure where a layer of aesthetic, tooth-coloured material is used to revamp the entire front surface of your tooth...
Who Should Have Dental Veneers?