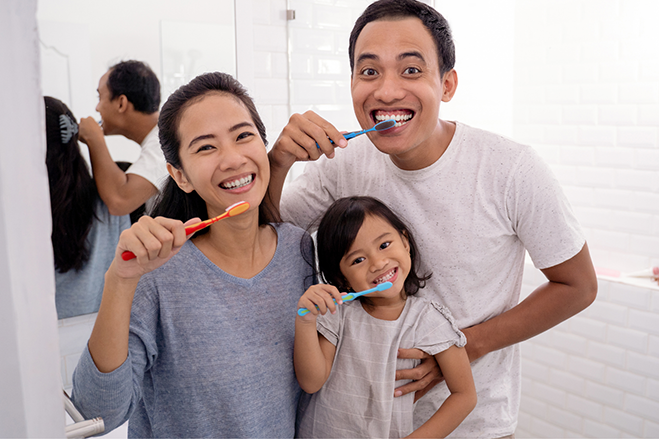 Dental Care & Hygiene Tips For Kids
Good habits start young. As children are easily influenced by their surroundings, parents must inculcate good and healthy oral habits from an early age. The earlier healthy dental habits are introduced to them, likely that they are carried into adulthood.
At Nuffield Dental, we emphasize prevention, which would mean maintaining an excellent level of oral care and a consistent dental routine.
The following are some tips to teach your younger ones about taking care of their oral health, preventing cavities and allowing proper growth of permanent teeth.
Tooth Brushing
Babies or Infants (0-3 Years)
Although babies do not grow baby teeth until they are six months old, it is important to get your baby used to dental care from the very beginning. You should aim for your baby to tolerate oral sensations of something in the mouth and tongue movements.
Here are a few tips on how you can gently introduce tooth brushing to your baby:
Let your child play with safe toys or objects such as teethers or small spoons in their mouths. These help to build their awareness of sensations in the mouth;
Use a fingertip, toothbrush made of silicon or rubber or a wet cloth to provide gentle pressure on the gums, tips and tongue. That will help your baby get accustomed to oral sensations;
Toothpaste is not necessary at this stage as babies are unable to spit;
Allow your baby to play with a child-friendly toothbrush. That enables exploration in the mouth and the sensation that comes with brushing their teeth.


Toddlers & Pre-Schoolers (3-6 Years)
Dental care during this phase is vital for your child's general health and primary teeth. Your child must start cleaning their teeth twice a day. You should aim for them to begin brushing parts of their teeth themselves, and assist them thoroughly tooth brushing and flossing.
Here are a few tips on how you can teach proper brushing habits:
Use a soft-bristle toothbrush and a small amount of fluoride toothpaste (rice grain size for under three years and pea-size for 3-6 years). It is crucial to refrain from using too much toothpaste as it may increase the risk of splotchy or streaky teeth when older;
Encourage your child to brush their teeth by role-playing on a doll or teddy;
Choose novelty toothbrushes (with your child's favourite cartoon characters or toothbrushes that light up). That will make them willing to brush their teeth and practise good oral care;
Lead by example, showing them when you are brushing your teeth as well;
Encourage them to read books and sing songs about tooth brushing;
Provide a mirror so that your child can see their mouth when brushing;
Practise spitting out small amounts of water.


School-Aged Children (6-12 Years)
From 6-12 years, children begin to lose their baby teeth and have a mix of baby and adult teeth. As adult teeth do not get replaced, it is vital to upkeep good oral hygiene to prevent potential gum diseases and tooth decay. During this phase of life, you should aim for your child to brush and floss his teeth independently.
Here are a few tips on how to encourage your child to brush his or her teeth:
Explain the importance of maintaining good dental hygiene and the types of food to avoid to prevent tooth decay;
Check with your child's dental centre for the correct techniques for brushing and flossing;
At this stage of development, your child may have outgrown the novel toothbrush. An electric toothbrush may be a great alternative to motivating older children;
Tooth brushing for 2 minutes, twice a day is a great way to maintain your child's oral health. Use a timer to encourage a full 2 minutes of brushing;
Use a small tube of toothpaste to practise squeezing an adequate amount of toothpaste (pea-size);
Use a hygiene routine checklist to mark off each aspect of the tooth brushing activity;
Use rewards such as healthy snacks or a visit to the park to encourage them to brush daily.

Dental Flossing
Dental flossing should begin as soon as baby teeth have erupted, typically between 2-6 years. When at least two teeth come in contact with one another, food particles can get trapped between the teeth during meals.
Although tooth brushing for 2 minutes is an excellent way to maintain dental hygiene, tooth brushing is not entirely sufficient to get rid of food trapped between teeth. As children under the age of 7 have yet to develop their fine motor skills, you should help perform dental flossing on the child's teeth.

Tongue Scraping
While toothbrushing and dental flossing are important steps of your child's hygiene routine, it is important to not miss out on tongue scraping as well. Tongue scraping is essential to remove the coat of bacteria, called biofilm, on your child's tongue and to freshen his breath.
Here are steps on how to clean their tongue:
You can use either a toothbrush or tongue scraper to clean their tongue. Use a tongue scraper for greater effectiveness;
Position your toothbrush or tongue scraper at the back of your tongue;
Brush lightly forward and backwards along your tongue.
As there has been an increase in the number of early tooth decay in kids, it is essential to foster good dental habits from young to ensure your child carries them into adulthood. Any dental issues should be raised when you visit the dentist. It is important to emphasize that tooth brushing is not an option, but rather something that we all need to do daily.
At Nuffield Dental, we are dedicated to providing a comfortable and safe environment for all our patients, especially children. Do not hesitate to visit your Nuffield Dental dentist or oral health therapist if you require further guidance on how to care for your child's teeth. Contact us to make an appointment today.