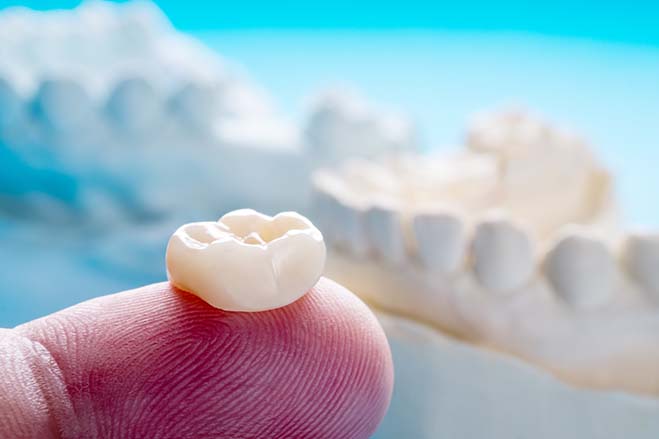 RESTORING YOUR TOOTH
Dental Crowns
A dental crown is a customized tooth-shaped cap that is used to protect, rebuild, and restore the function and appearance of a tooth.
What is a Dental Crown?
What is a Dental Crown?
The tooth in question will be "prepared" to create space for your crown. The crown will be manufactured in a dental laboratory according to the specific dimensions of this preparation. Once ready, it will be fitted onto your tooth using a cement. Types of Dental Crowns
At Nuffield Dental, we offer a range of crowns to suit your different needs:
Significant tooth decay;
Significant tooth wear;
Been broken or chipped significantly;
Developmental abnormalities, for example teeth that are smaller than usual or under-developed;
Cracks, to prevent these from propagating and irreversibly damaging your tooth pulp and tooth structure;
Undergone a

Root Canal Treatment

(especially your big molar teeth);
Been lost and replaced with

Dental Implants;

An undesirable colour, shape or alignment and you desire a Smile Makeover.
Do I Need a Dental Crown?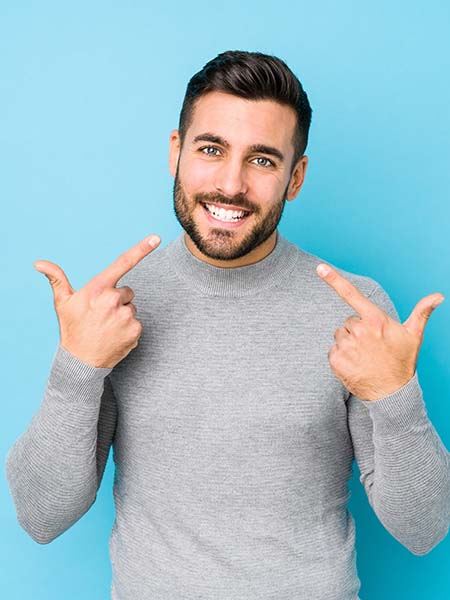 What Does the Procedure Involve?
Stage 1: Consultation and Pre-Treatment
At your crown consultation, your dentist will explore your concerns, thoroughly examine your teeth, and take any necessary X-rays or pulp tests.
You will be informed if any teeth will benefit from having a crown or other treatment options. If a crown has been decided upon, the types of crowns will be discussed and decided upon according to your condition and expectations.
Pre-treatment preparations before having a crown may include:
Placement of a core

filling

material to restore large gaps in your tooth that have been damaged and removed from decay, wear, breakage, etc

Gum contouring

to enable the core filling material and crown to be placed securely and successfully over your tooth.
---
Stage 3: Post-Operative Care
You will be provided instructions on how to look after your crown and further oral health advice. Crowns that are done well and looked after meticulously can potentially last many years or even a lifetime.
Stage 2: Crown Procedure
Once all the pre-treatment preparations have been made, two appointments are needed to complete a crown. The first visit to prepare the tooth and take specific measurements, the second visit to fit the crown.
A single tooth crown preparation takes 30 to 60 minutes. Before starting, the relevant tooth will be numbed with a local anaesthetic (unless your tooth has had a prior root canal treatment). You will hence not feel any pain at all during the whole procedure, solely some pressure and/or vibrations. You may additionally be placed under prior IV sedation or General Anaesthesia depending on your concerns and agreed individualised treatment plan.
Substance is removed from all superficial aspects of your tooth to create space and margins whereby your crown can seamlessly and securely sit upon.
An intraoral scan and mould of the tooth will be taken and sent to a dental laboratory to construct your crown. If you are having a porcelain-fused-to-metal or full ceramic crown, you will be able to select the specific colour you would like your crown to be in with your dentist.
Finally, a tooth-coloured temporary crown is made and fitted over the prepared tooth to protect it whilst your final crown is in the making. It will be beneficial to avoid biting on hard or chewy foods over the temporary crown.
Re-visit your dentist as soon as possible if this temporary crown were to chip or come off prematurely.
Your crown fit appointment will last 15 to 30 minutes.
The temporary crown is removed and your final finished permanent crown will be tried on. This is to ensure that it is – well-fitting, harmonious with your bite and neighbouring teeth, and that you are happy with its colour and overall appearance.
Some minor refinements may need to be made. Once finalized, your crown will be sealed in place on your tooth with a cement. Local anaesthetic is often not needed for this part of the procedure.
Book an Appointment
Fill out the form for any request or questions you have and we will contact you within one working day..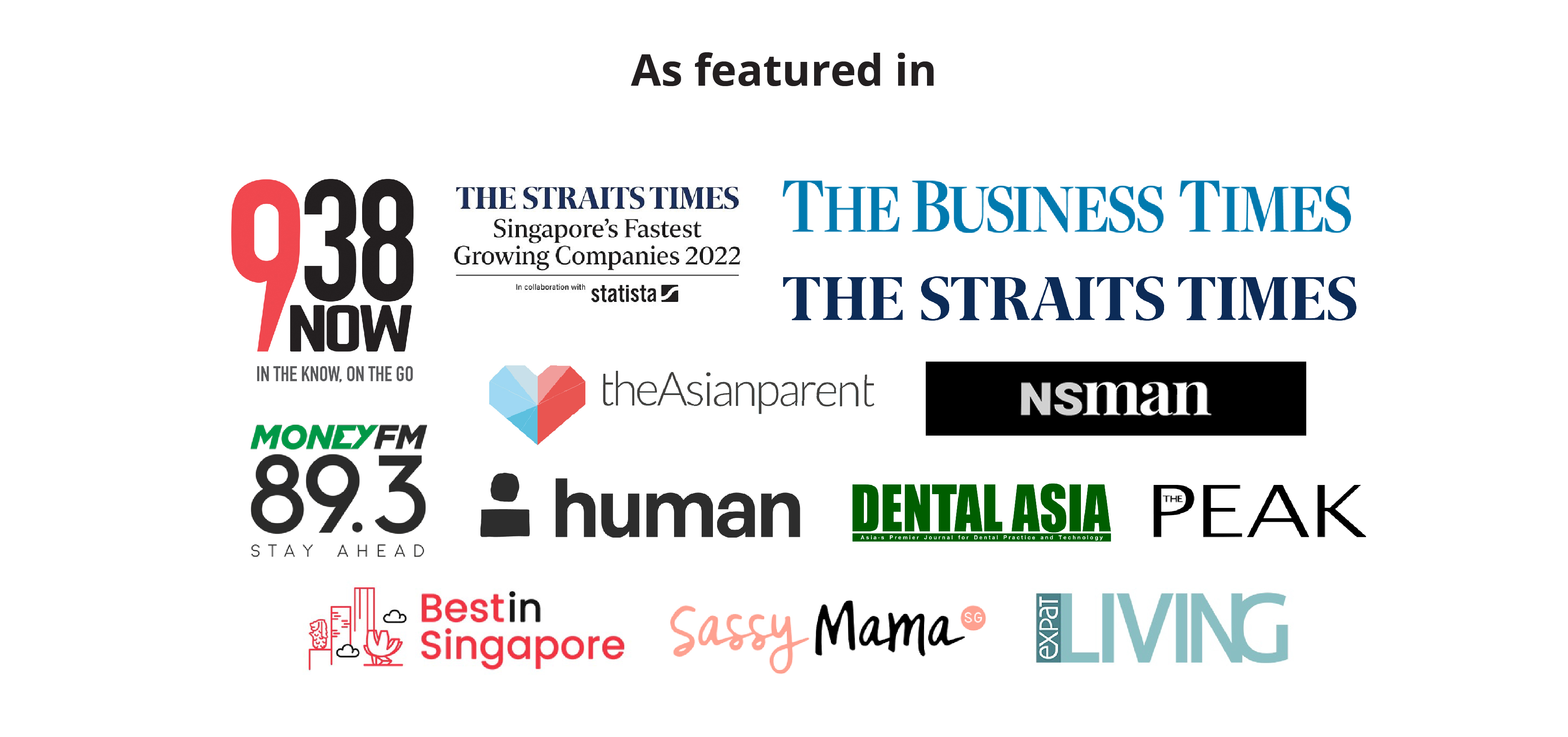 Why Choose Nuffield Dental?
Nuffield Dental is a one-stop, multi-disciplinary dental care centre. At Nuffield, we put you first. We believe in providing personalised service for each patient.

Nuffield Dental is a one-stop, multi-disciplinary dental care centre. Here at Nuffield Dental, we pride ourselves of our personalised oral care for each and every one of our patients. We need to make sure you get all the help you need to make your dental procedures comfortable, accessible and seamless.

Our dentists have a special interest in prosthodontic treatments and are accredited dental providers who have been helping patients achieve confident smiles.
Articles
The newest and best lifestyle articles selected by our editorial team.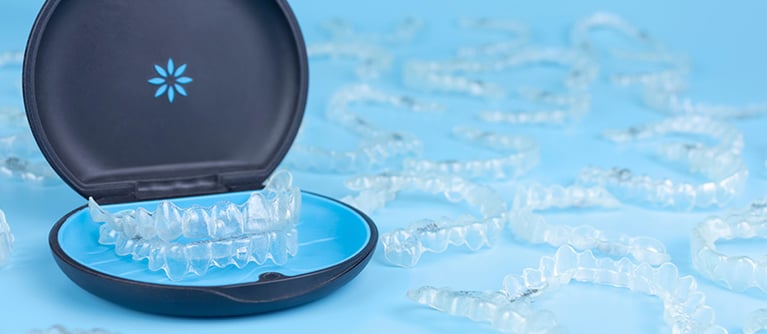 Traditional braces have done wonders for millions of people around the world, but the new generation of clear aligners are here to step up the game....