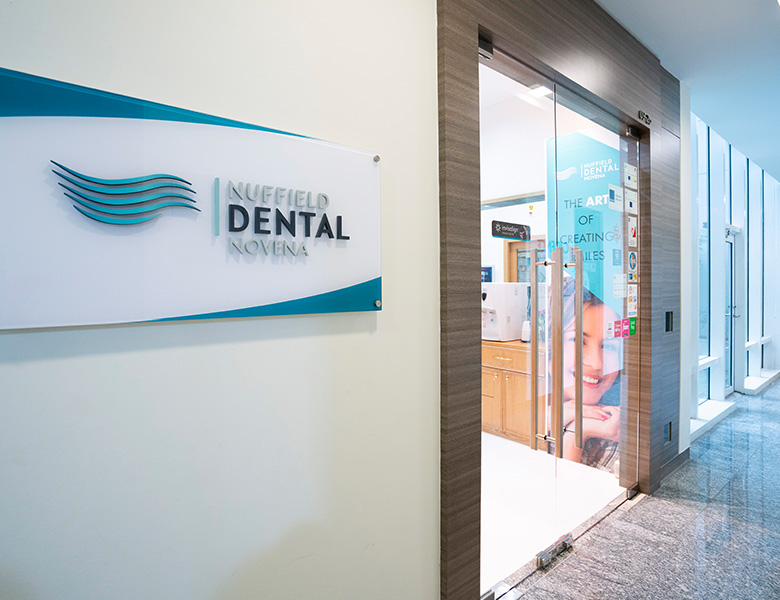 WELCOME TO
Nuffield Dental Clinic Novena
Conveniently located in Singapore's central region, our Nuffield dental clinic at Novena provides various dental procedures such as dental fillings, gum disease treatment, and crowns and bridges.
Call us +65 6397 2739
Dental treatments available at Novena
Emergency dentistry
Signature Services
General dentistry
Dental implants
Teeth straightening
Crowns and bridges
Dentures
Wisdom tooth surgery
Cosmetic dentistry
Paediatric Dentistry
Holistic dentistry
Oral and maxillofacial surgery
Contact Us
Timings
| | |
| --- | --- |
| Monday - Saturday | 9am - 6pm |
| Pub. Holidays & Sunday | Closed |
+65 6397 2739
+65 98237556
novena@nuffielddental.com.sg
#09-26 Novena Medical Centre, 10 Sinaran Dr., Singapore 307506
How to get to Novena Nuffield Dental Clinic?
Nuffield Dental Novena is a dental clinic that serves the community in Novena and Newton neighbourhoods. To visit us, take the MRT to Novena (NS20) station. Nuffield Dental Novena is located in Novena Medical Center, which is directly above Exit A.
Novena Medical Center is next to Square 2 mall and opposite Tan Tock Seng Hospital.
By Train

The Novena MRT Station is directly below the Novena Medical Center, at Basement 1. Please leave the MRT station through Exit A, turn right and follow directional signs to the Level 1 Medical Lift Lobby. Use these lifts to get to the Medical Center located on Levels 8 to 11.
By Car

Pan Island Expressway (PIE) to Thomson Road and turn into Irrawaddy Road Central Island Expressway (CTE) to Moulmein Road and turn into Sinaran Drive. Taxis can drop off passengers directly in front of the level 2 Medical Center entrance at Sinaran Drive.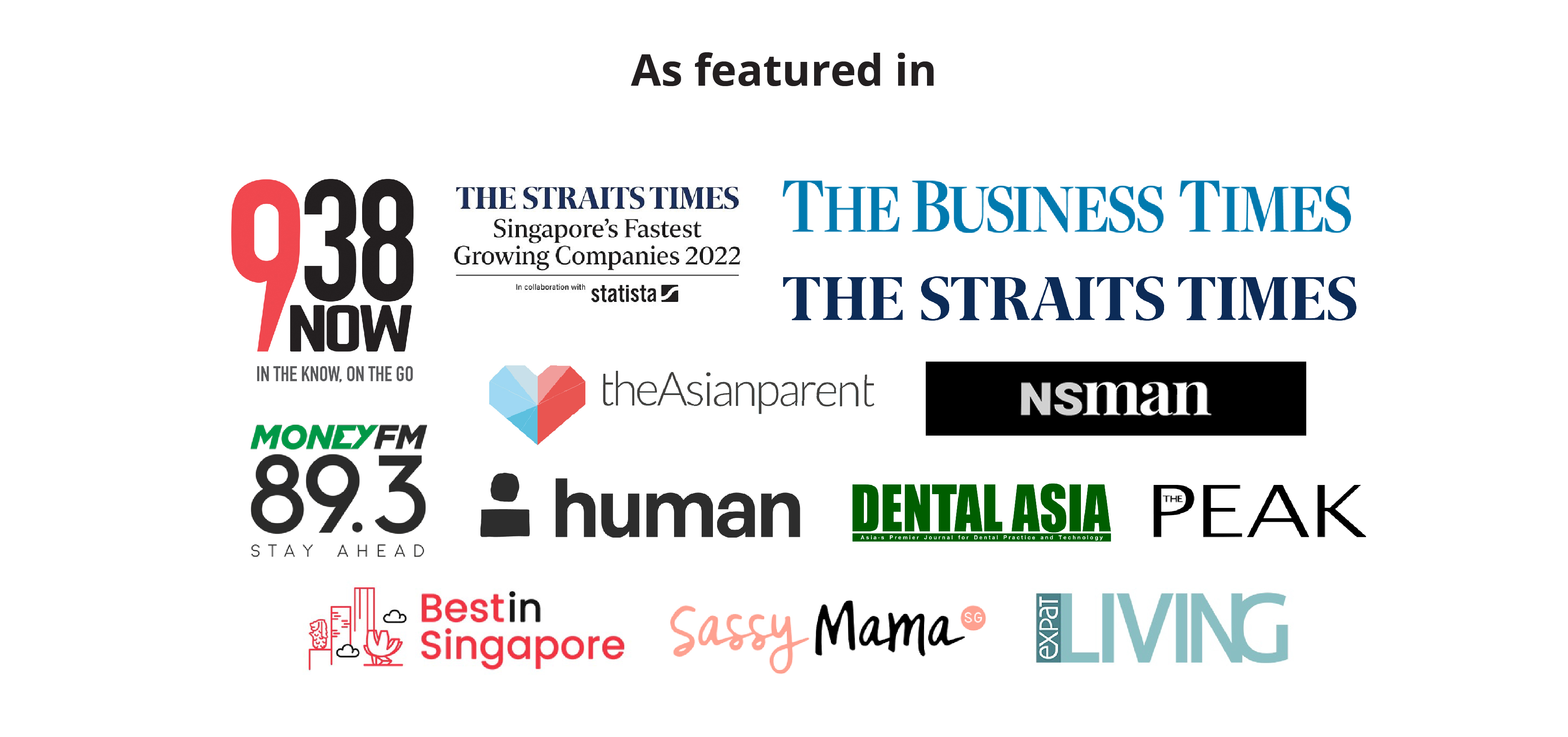 Book an Appointment
Fill out the form for any request or questions you have and we will contact you within one working day..
Why Consider Our Dental Clinic at Novena?
Our Novena medical centre dentists provide for the various needs of our patients. Be it the first consultation or the treatment and post-treatment procedure, you can count on us for attentive, informed, and constant care. Rest assured, our staff will attend to you throughout the whole procedure.
Our Services
We provide a diverse selection of dental services at our clinic. Everything from replacing a missing tooth to straightening crooked teeth and whitening teeth for cosmetic enhancement is offered at our clinic. Trained nurses and healthcare professionals assist our Novena medical centre dentists. Our working style is systematic and comprehensive, and we prioritise the provision of quality dental care for all our patients.
Dental Services Provided at our Novena Clinic

Emergency Dentistry
We handle all dental emergencies like broken teeth, lost or knocked-out teeth, swollen gums and mouth, missing or loose fillings, missing or broken crowns, and wisdom tooth extractions.

For any dental issue or emergency, schedule an appointment with us, and we will attend to you as soon as we can.

Whether it's root canal treatment or oral pain management, you can count on us for timely and effective treatment.
Signature Services
Our signature services comprise Myobrace®, Invisalign®, tongue tie surgery, facial rejuvenation, and holistic dentistry.

You can get the smile you desire and smile with confidence again by opting for our treatments.

General Dentistry
Our general dentistry services cover teeth whitening, scaling and polishing, dental consultation and oral cancer screening, bad breath, dental fillings, gum disease treatment, root canal treatment, and teeth reshaping.
Dental Implants
Our dentists

have been performing

implant dentistry and oral surgery for over twenty years.

Our prosthetics function and look exactly like natural teeth, and thus make for an appropriate aesthetic option.

Our senior dentists are committed to advanced implant reconstruction for those who require complex dental treatment for their conditions.
Teeth Straightening
We provide teeth straightening services such as Damon braces, Invisalign® and Myobrace®.

Our treatments are customised for each patient.

Our trained dental staff can help you determine which procedure is suitable for you.

Crowns & Bridges
Our dentists can provide you with a detailed analysis and assess your suitability for both these procedures.

Healthy gums and teeth are a prerequisite to be considered a candidate for both crowns and bridges.

You gain a restored smile, teeth functionality, and a well-maintained facial shape and appearance.

Dentures
Our dentists will examine your mouth to decide which denture is right for you, as various materials are available.

Dentures help you regain a natural smile, eat quickly, decrease the ageing period, and minimise speech problems.

Wisdom Tooth Surgery
This is a MediSave-Accredited procedure at Nuffield Dental clinics.

We use digital imaging equipment with Green technology and shallow radiation doses for taking X-rays.

Your general dentist or provider will inspect your wisdom tooth's position inside the jaw to successfully extract the tooth.
Short of treatment, impacted wisdom teeth can harm adjacent teeth, the jawbone, and the nerves.
Cosmetic Dentistry
This incorporates aesthetic dental services like cosmetic bonding and dental veneers.

Our teeth whitening services can enhance the appearance of your teeth.

Our dentists will be able to suggest the type of veneers most suitable for your particular needs.

Paediatric Dentistry
Our paediatric dentistry or children's dentistry treatments include Myobrace® and tongue tie surgery.

Our dentists and nurses undergo training in handling young children and provide gentle, playful, friendly, and stress-free conditions.
Nuffield Dental is a Baby Bonus-approved institution.
Holistic Dentistry
We ensure that our dental procedures are non-toxic and non-invasive to the body.

Our complete assessment will help create a well-defined health treatment plan to rebuild your dental health.

We approve of prevention over intervention.

Oral and Maxillofacial Surgery
We provide a whole selection of oral surgery procedures.

Our dentists will determine your dental problems and notify you of the suitable treatment plan.
All surgeries at Nuffield can be performed under local anaesthesia, general anaesthesia, or intravenous sedation.
Photo Gallery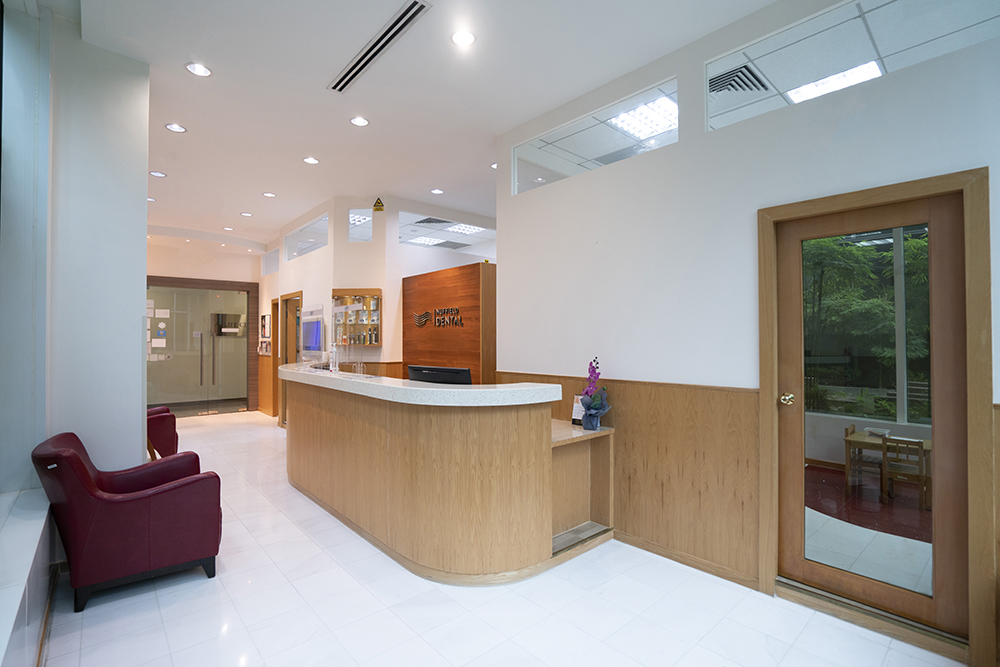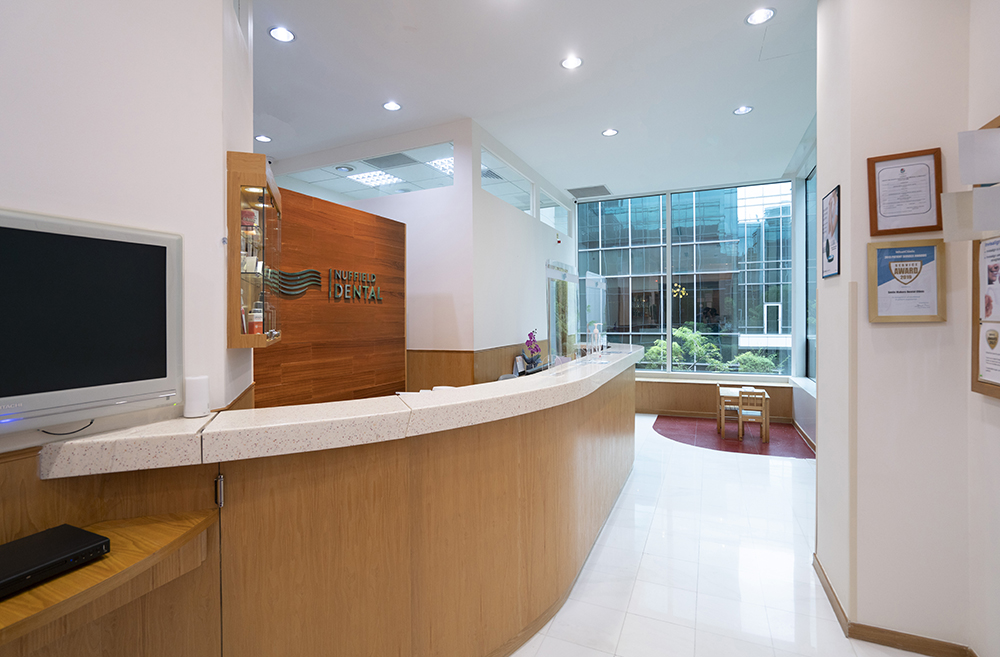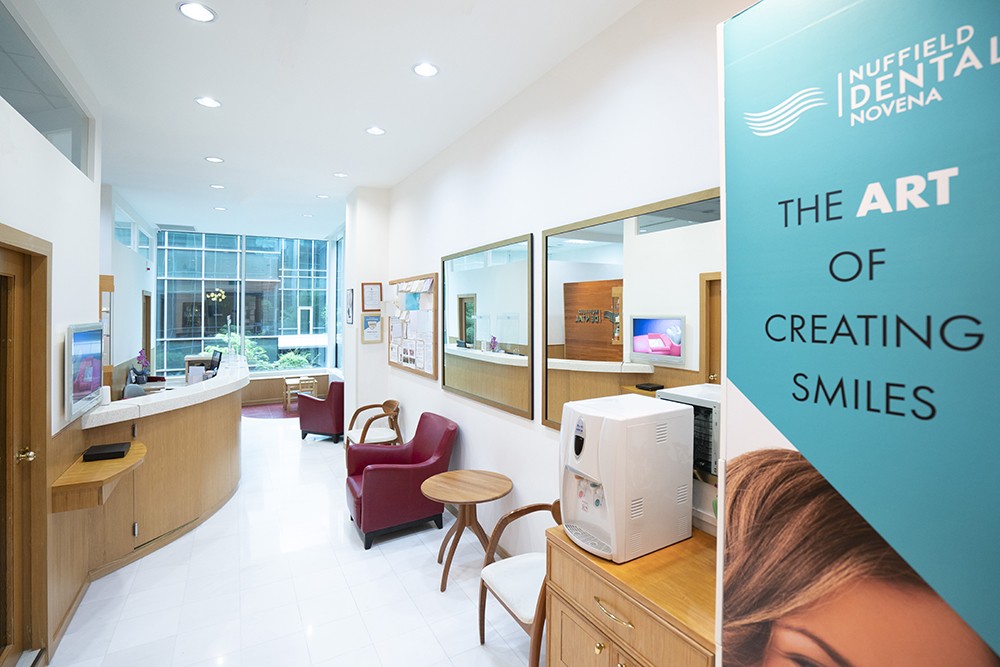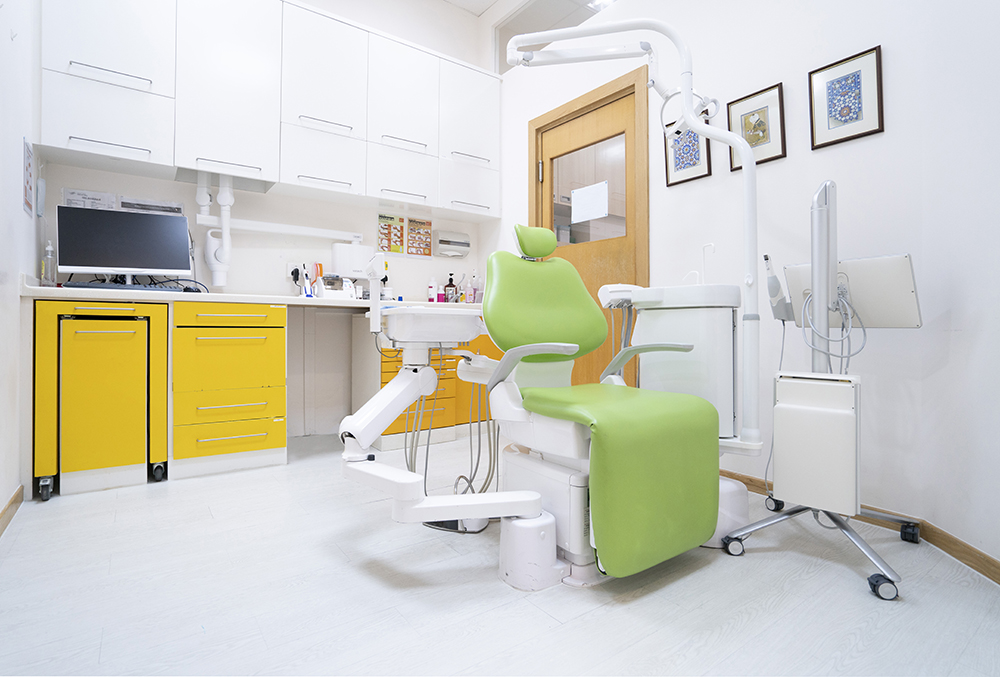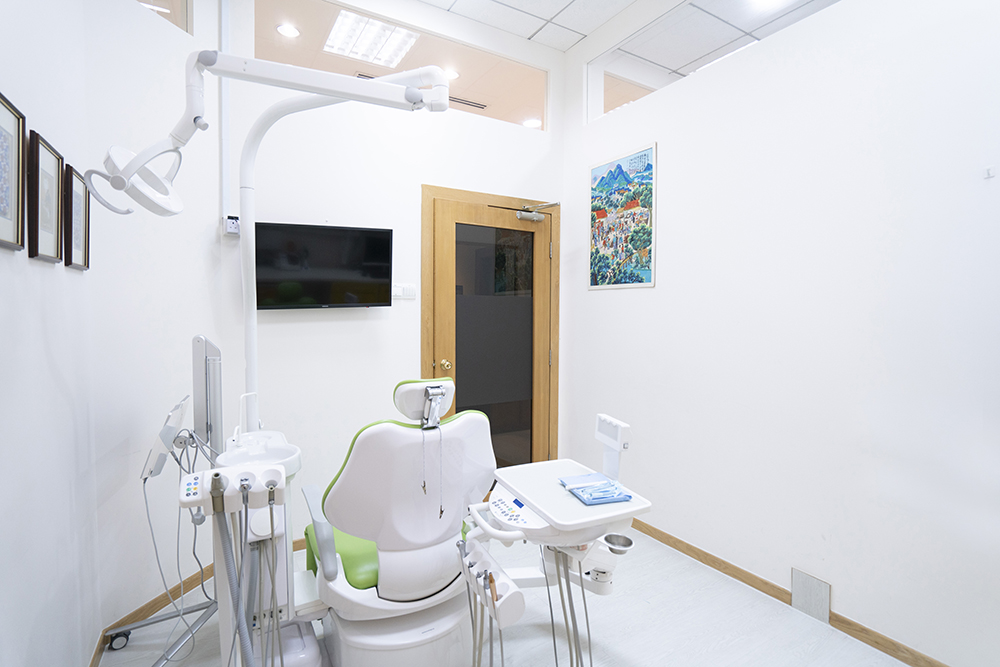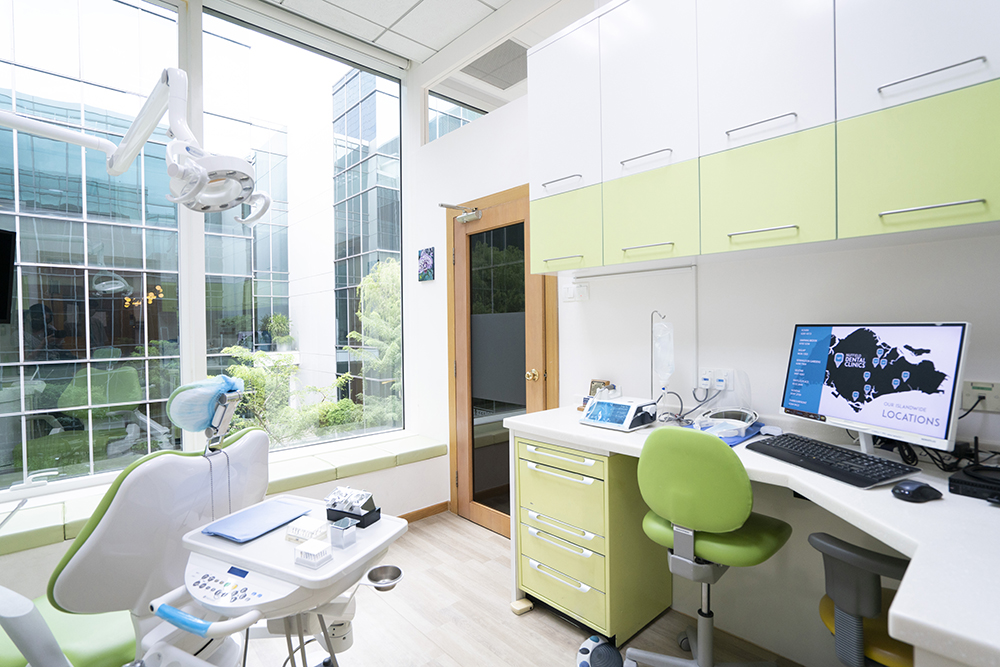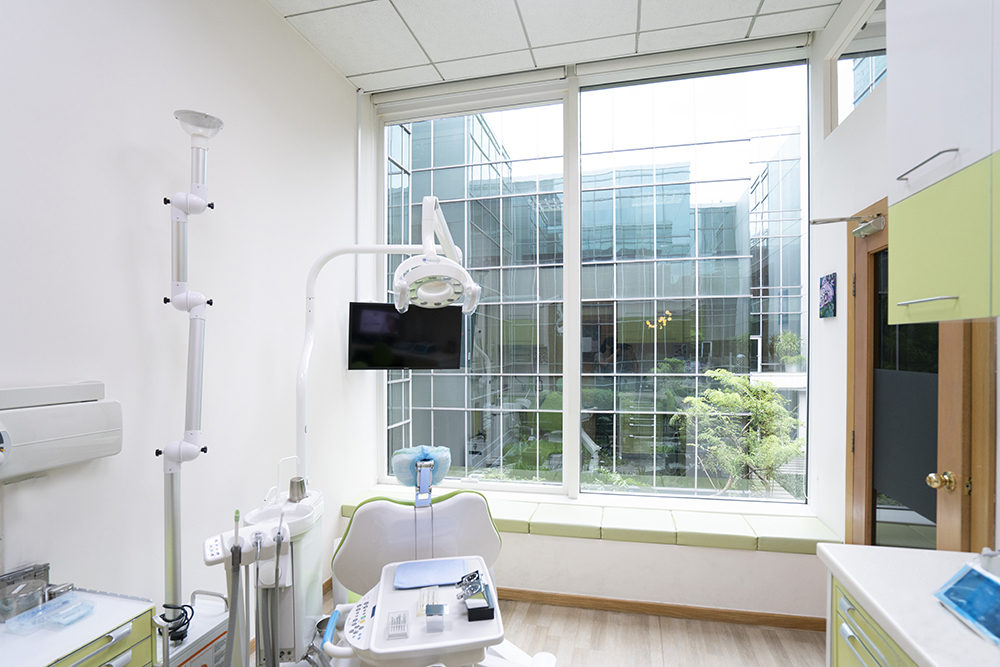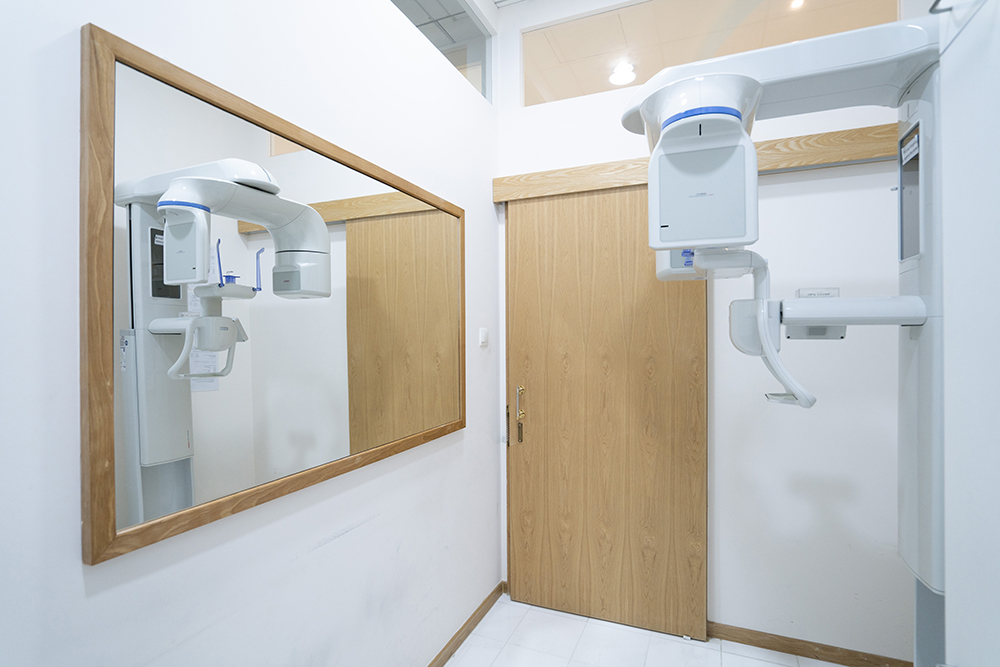 Our Doctors
Your dental needs will be attended to by our dedicated team of Nuffield dental practitioners at Novena in Singapore.
Book an Appointment
We would love to hear from you. Please fill out this form if you would like to book an appointment with us or if you have a question for us. We will be in touch with you within one working day.