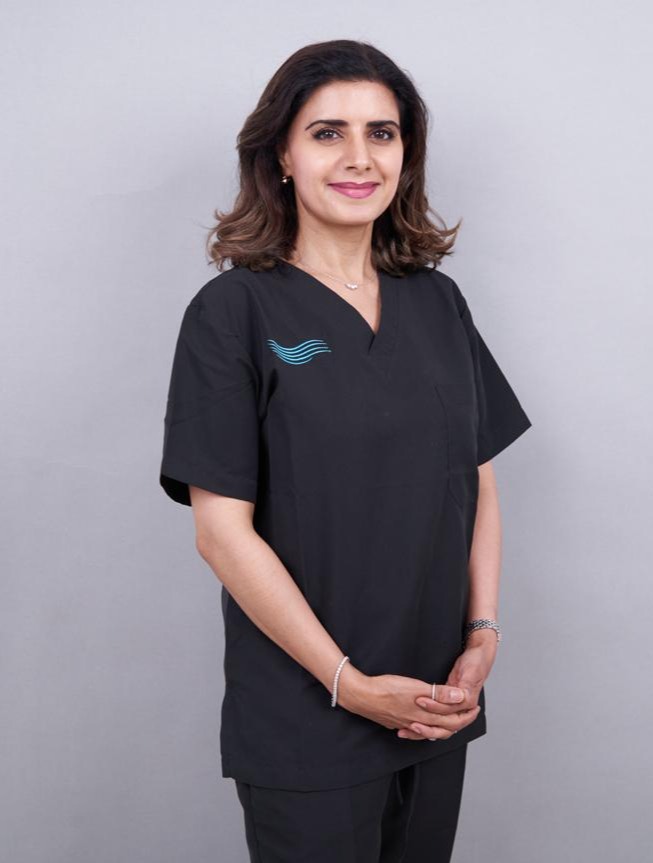 Dr Hanna Aslam
Dental Surgeon

Bachelor of Dental Surgery (UK)
About
Education & Achievements
In Dr Hanna Aslam's original discipline, she read for a degree in Biomedical Science achieving a First Class Honours, this progressed to completing a Master's degree in Genetics and ultimately a Doctorate from the University of Manchester, UK. After completing her PhD, she took the role of a Postdoctoral Research Fellow at Kings College London, which involved the study of genes responsible for development of pioneer neurones. This post involved working at microscopic levels which harnessed and developed her dexterity skills. Even though Dr Aslam enjoyed research, she changed career because she wanted to help people in a hands-on approach, so trained as a Dentist.
Dr Aslam graduated from University of Leeds 2012 and worked in a busy National Health Service (NHS) practice, also providing private treatment as a family dentist in West Yorkshire, UK for more than 10 yrs. Dr Aslam went onto dividing her time between dental practice and the West Yorkshire Community Emergency Acute Dental Pain Service, treating anxious patients to relieve their dental pain. During her time in practice, Dr Aslam was invited to be a Validation Supervisor, a prestigious role for NHS Health Education England, Postgraduate Dental Deanery, Yorkshire, UK. In this position, Dr Aslam supervised and mentored overseas Foundation Dentists, to help them complete their dental competencies portfolio, clinical audits, supervised their clinical work, and oversaw patient management. Dr Aslam's career progressed to a Clinical Teaching Fellow at the University of Leeds whilst still working in general practice. Dr Aslam taught undergraduate dental students facilitating dental student education, a respected position she thoroughly enjoyed.
Services Provided
Dr Aslam believes education and engagement is key and enjoys working alongside her patients to attain the best outcome with their interest at heart. She loves to work with her patients in a holistic approach to achieve overall dental health. Dr Aslam welcomes anxious patients and enjoys working with children, gaining their confidence to encourage a professional relationship with a friendly manner, committed to providing a positive dental experience to patients of all ages. She is keen on personal and professional development, to ensure she provides optimal treatment in-line with current standards and be able to deliver evidence based dental health care of the highest quality. Dr Aslam treats patients with a gentle, conservative approach to restore good aesthetic and oral function. She has an approachable and caring demeanour, delivering dental care to help you achieve and preserve your best healthy smile.