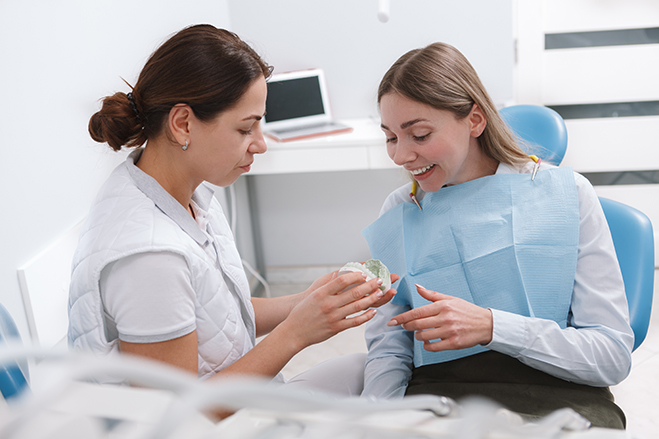 Patient Care
Here at NUFFIELD DENTAL, our dentists are experienced but it doesn't stop there. All our dentists have to complete 'Continuing Professional Education' requirements to be registered with the Singapore Dental Council. We also hold in-house training and seminars for our dentists too.

Pre-Clinic Dental Symptoms
Are you experiencing a dental issue, like a constant toothache or bleeding gums? A visit to the dentist would help to assess the situation and provide a diagnosis and possible treatment options.
It is critical that self-diagnosing or self-medicating is avoided and that professional advice is sought.
At Nuffield Dental, we offer a comprehensive range of dental services.
Patient Care During Clinic Visits
Patient care is important to us here at Nuffield Dental. Whether you are here for a scaling and polishing procedure or an All-on-4, we want to make sure you have a comfortable, painless experience with us.
Our friendly team of dentists, nurses and clinic staff will work with you throughout the entire duration of the treatment. We will provide you with sufficient information about all available treatment options, allowing you to weigh the different factors of cost, aesthetics, durability and long-term success, arriving at the best option for your oral health.
Post-Clinic Care
We will provide you with a care kit and a recommended list of post-operative instructions. This includes the type of diet you should adopt and the dosage of painkillers to take. Follow-up dental sessions will also be scheduled so that our dentists will be able to evaluate the progress and access if the surgery areas are healing well.
To maintain your dental treatment results, and to also keep your oral hygiene in stellar condition, it is essential to take care of your teeth, gums, mouth and jaws. This includes not just brushing and flossing regularly, but also scheduling regular scaling and polishing sessions to clean up tartar and plaque in hard-to-reach areas.
To receive our newest updates, subscribe to our mailing list. Should you have any questions, do not hesitate to call us or make an appointment with us today.