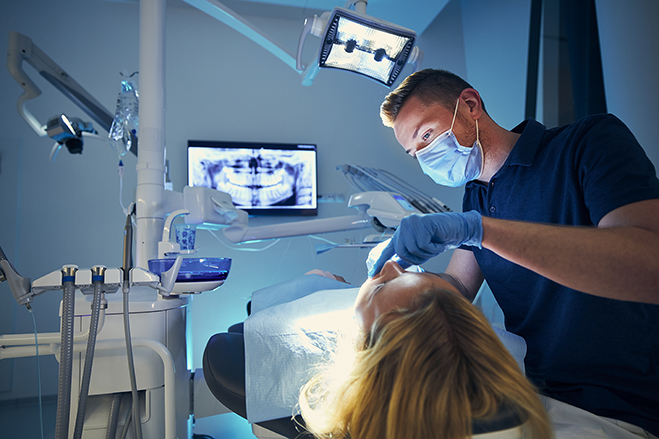 Safe Surgery
At Nuffield Dental, we ensure all dental surgeries are done with your safety in mind.
With regards to all wisdom teeth, bone grafting and implant surgery, you can be assured that we adopt a strict full surgical set-up and follow compulsory sterilisation protocol.
We do this for the safety of our patients, to reduce cross-infection between patients. This decreases infections after the surgery and increases success rates for the surgical procedures.

How Do We Ensure Safety?
Use of an Electric Motor-Driven Surgical Handpiece Drill
All our wisdom teeth and implant surgeries are done using an electric motor-driven surgical handpiece drill. We use this machine so as to prevent contamination at the surgical site with the lubricating oils. This handpiece also enhance regulates the torque as it is cooled with saline which acts as a disinfectant wash. Since it is not air-driven, it reduces the risk of cross-contamination with air and the body which can lead to serious issues.
Prior to these handpieces drills, the drills were designed such that they were connected to the dental chair. This type of design reduces the controlling force. It also does not have disinfecting properties. Due to the advantages of using the motor-driven surgical handpiece drill over this drill, we have opted to use this in all our surgeries.
Doing a Thorough Assessment of a Patient's Medical History
Also, with every surgical procedure, we ensure that the treatment provided is suitable for our patients. We check the patient's medical history, any illness they have or any other issues they have been experiencing. This is to ensure the best possible outcome for the long term success of the surgery - whether it is a dental implant procedure or root canal treatment.