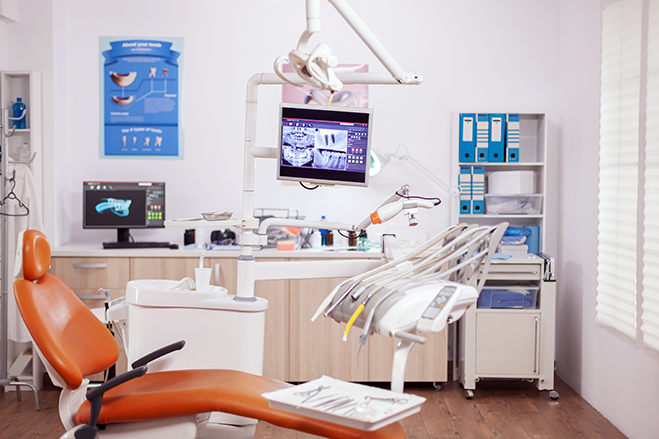 Safe & Modern Dental Material & Equipment
At Nuffield Dental, we aim to ensure our patients' safety and confidence when they undergo treatment and procedures.
We invest in safe and modern dental materials that aid in the long-term success of dental health. Listed here are some examples of the materials or tools we use:

Self-Aspirating Syringes:
The use of self-aspirating syringes is a novel addition to the dentistry world in the past decade. With the use of this syringe, the injection of local anaesthetic into your bloodstream is controlled and specific.
The syringe has an ergonomic design which provides optimal balance, tactile control of the injection and lowered hand stress during the injection.
In self-aspirating needles and syringe system, aspiration can occur solely after the injection has begun. Automatic aspiration occurs by light pressure on the plunger. The self-aspiration without retraction minimises the risk of needle tip movement in the tissue and encourages the slow release of epinephrine (local anaesthetic).
With the use of such syringes, there is a reduced chance of unexpected cardiovascular events in the compromised patients depending on the amount of epinephrine.
If you have experienced or are currently experiencing cardiovascular problems, please inform our staff before proceeding with any dental procedures.
Amalgam Fillings
There are different types of fillings used all over the globe to aid in cavity preparation.
At Nuffield Dental, we do not use mercury dental amalgam fillings. There is a significant international drive to remove this filling material from dental practice altogether.
With the use of mercury restorative material, low levels of mercury in the form of vapour can be inhaled and absorbed by the lungs. Over time, exposure to high levels of mercury vapour has been associated with adverse effects in the brain and the kidney. There is also research on mercury amalgam restorations having neurotoxic effects of developing neurological systems in fetuses and young children.
At Nuffield Dental, we use BPA-free composite fillings and glass ionomers instead.
BPA, also known as Bisphenol, is an organic compound found in materials that are used to make plastics. These composite fillings are a mixture of glass or quartz filler in a resin medium that produces a tooth-coloured filling. Composite fillings have good durability and resistance to fracture in small-to-mid size restorations which can withstand moderate chewing pressure and are known for safety and efficacy. There is also a reduced amount of tooth structure that needs to be removed when preparing the tooth.
With glass ionomers, they adhere to caries affected dentin, therefore also minimizing the amount of tooth required to be removed to restore the tooth. Glass ionomer cement can be used as a restorative material in its own right or as a foundation for a composite resin overlay where the remaining tooth structure is unsupported and requires a bonded composite to maintain its structure.

The Use of Nickel-Free And Semi-Precious Crowns
Traditionally, porcelain-fused-to-metal (PFM) crowns have been a popular option used to restore damaged teeth on many patients. However, at Nuffield Dental, we use nickel-free and semi-precious crowns to ensure the longevity of the crown treatment.
When producing PFM crowns, are made 60% of either gold, platinum or palladium and 40% alloys consisting of silver and copper with smaller amounts of iridium, indium, zinc or rhenium. With semi-precious crowns include the use of 25% of metal with the rest being the remaining alloys while non-precious alloys are sometimes called base metals. In these alloys, noble metal content is less than 25%.
Compared to semi-precious crowns, PFMs appear opaque, lacking the natural translucency found in natural teeth and tooth structure. They also develop a dark metal edge, especially if gum recession occurs.
At Nuffield Dental, for our crown procedures, we offer the use of zirconia material, which is the strongest material to be used as crowns. A nickel-free crown is used to protect teeth with large fillings or teeth that are cracked. Metal-free crowns produce natural, realistic results. They also rarely cause allergic reactions in patients when restoring broken or misshapen teeth, making them durable and stronger.
We produce our indirect restorations, whether it is inlays and onlays, in our dental laboratories where we use CAM/ CAD technology to produce these crowns with exact and quality.

General Safety
In line with Nuffield Dental's high standards for infection control, hygiene, and professionalism, we have implemented and adhere to strict protocols in all our clinics on clinical staff being dressed in scrubs and masks.
We sanitise and disinfect the area after each patient to ensure no transfer of germs or bacteria.
At Nuffield Dental, we want to ensure safety, comfort and innovation. Our staff aim to provide you with the dental quality and service standards you deserve. Contact us to find out about our dental services.