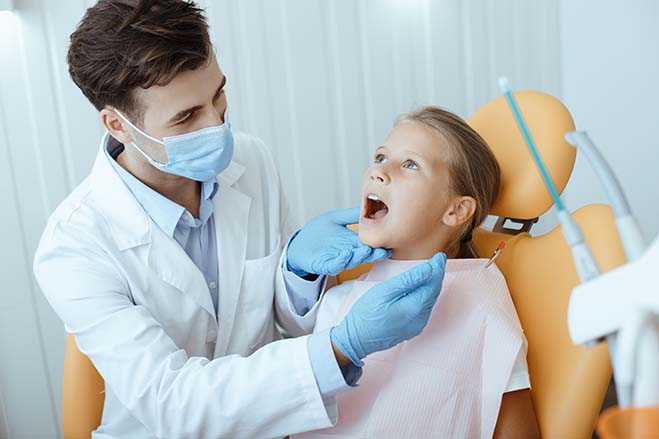 Paediatric Dentistry
Having good oral hygiene starts at an early age. It is a habit built before your child even gets their baby teeth.
At Nuffield Dental, we recommend our young patients have their first dental check-up around the time they approach their first birthday. Our dental team is specially trained in handling children.

Caring For Your Child's Oral Health
Regardless of the child's age, we work with each child to try to provide a gentle, playful, friendly and stress-free environment to enhance their experience at our dental centre. We aim to support parents in ensuring a safe and thorough examination of their child whether it is for a regular dental visit or an oral surgery.
We fully understand that a child's first dental visit can be filled with anxiety. Before any dental treatment commences, our dentists will explain every stage of the procedure to both parent and child.
As a parent, it is important for you to understand your child's dental health. With their primary teeth, children are prone to tooth decay. This is why monitoring and guiding their brushing habit is highly encouraged. Your child's first visit to the dentist will include the opportunity to learn about the common dental problems faced by children.
How Does the Nuffield Dental Group Cater Specifically to Children?
Our X-ray equipment is green-certified land emit low-radiation doses (X-rays will be taken solely if necessary);
All our clinics are Baby Bonus Scheme Approved Institutions;
We are also proud to say Nuffield Dental Serangoon Gardens has a designated play zone for kids. Keeping them engaged and distracted can help with anxiety levels and a smoother journey for both parents and paediatric dentists.
Tips for Keeping Teeth & Gums Clean
The following are some ways you can prepare for your child's dental visits.
Do's:
Inform the dentist about your child's medical problems, if any;
Try to guide and monitor your child's brushing and flossing habits;
Instead of asking your relatives, try to accompany your child for their first visit.
Dont's:
Before and during the visit to the dentist, resist giving instructions to your child on how to behave with the dentist;
The day before the visit to the dentist and on the day itself, try not to allow your child to be exposed to stressful and upsetting events such as watching a horror movie for example;
Don't punish your child on the day of the visit to the dentist.
These tips not solely help inculcate proper dental care for your child, but it also makes the experience to the dentist a little easier. It is crucial to implement a dental routine for your child from a young age as it helps in the proper growth and maintenance of permanent teeth. This reduces the chances of dental issues in the future.
If you would like to find out about our dental services and children dentistry, please book an appointment at any of our 10 clinics located islandwide.