Straightening Teeth: Your Questions Answered
Some people call this straightening of crooked teeth. There are now several ways of straightening teeth and making your smile attractive.
"Braces" – the layman's term for the appliances that are fixed to the teeth to straighten them
Modern dentistry provides a variety of solutions to achieve, or restore, an attractive smile with healthy teeth. The problem of crowded teeth can be resolved with braces and unlike the heavy metal orthodontics of the past, braces now come in a rainbow of colours, from bright pink and emerald green to white and clear. For those not wanting to wear braces around the clock, Invisalign can be removed for up to two hours each day, leaving the mouth free of intrusion at meal times.
Invisalign treatment begins with x-rays and dental impressions that are used to create a digital three-dimensional model. The dentist uses the model to determine the exact treatment. Aligners are made to fit comfortably and securely and are changed for a novel aligner about every two weeks. The overall treatment time varies according to the complexity of the condition. Very mild cases can be treated within a year. Comprehensive treatment requiring extractions may take 2+ years.
Straight teeth are essential to good dental health. They enhance bite and are easier to clean and floss. Enhanced looking teeth can restore self-confidence, which can enhance overall well-being. A dentist can decide which treatment is best for the individual patient. Some patients are not good candidates for Invisalign and in that case treatment will need to be carried out with traditional braces.
Book an appointment to find out about orthodontics options today

Q&A
1. Can braces be discreet?
Porcelain, or ceramic, braces are often worn by adults who don't want their braces to be so noticeable. Unless someone is really up close to you, porcelain braces are barely noticeable. Ceramic braces cost increases compared to metal ones. They are well worth the price if you want your treatment to be discreet.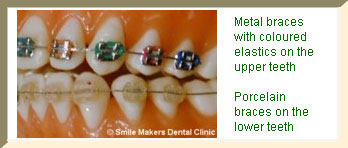 In some cases of moderate spacing or crowding in adults, teeth can be straightened — without braces or wires using Invisalign clear aligners.

2. Is there an age limit for orthodontic treatment?
There is no age limit. Click Adults Wear Braces to find out information.
3. Why is Straight Teeth Important?