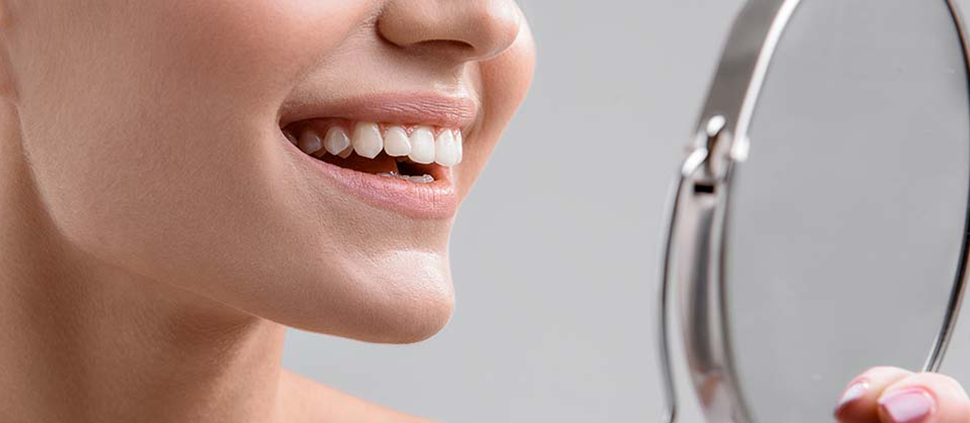 Veneers vs Crowns: Knowing the Pros and Cons
What are Veneers?
Veneers are thin, tooth-coloured layers that are applied to the surface of teeth to improve their appearance. It is a painless procedure that allows you to change the length, colour, alignment and feel of your teeth to achieve aesthetic and protective goals.
Veneers are recommended to camouflage issues such as uneven spacing or irregular shaping of teeth, and minor chips and breakage.
What are Crowns?
Dental crowns are caps that are placed on top of teeth. They are usually used to cover severely cracked or damaged teeth, with the purpose of rebuilding the structure and functionality. In addition to fixing cracks, breakage and discoloration, they can be used to hold dental bridges in place too.
Dental crowns are custom-built and come in a wide range of materials, such as metal, porcelain, zirconia or steel. Dental crowns are fitted onto teeth with cement.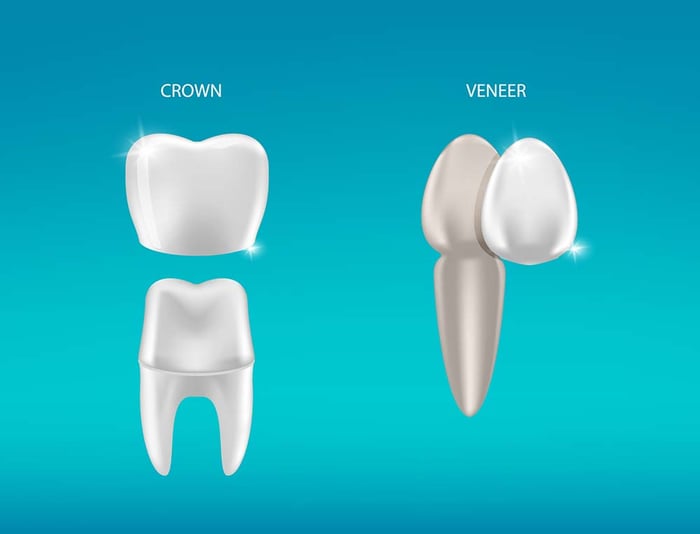 Veneers Vs Crowns: What's The Difference?
Yes, it can be difficult to tell veneers apart from crowns simply by looking at someone's smile, as both are crafted to resemble natural teeth as much as possible.
However, each serves different functions and involves different processes. As a start, veneers are layers placed on the front surface of the teeth, while crowns are caps which fit on top of them.
Also, since crowns are offered in a wider range of materials than veneers, they provide more flexibility and can be more cost-effective.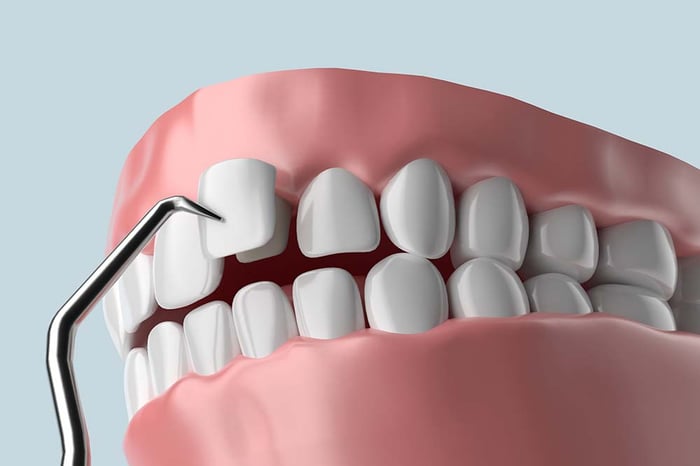 Advantages of Dental Veneers
Dental veneers can improve milder cases of teeth misalignment so are often used as an alternative to whitening procedures and braces.
Compared to braces, for example, veneers involve no pain and hassle. To achieve a healthier smile, therefore, generally requires shorter treatment time.
And since veneers are virtually invisible to the naked eye, you no longer need to worry about showing any imperfection - hence can smile confidently.
Disadvantages of Dental Veneers
Veneers may not be able to fix severe cracks or damage. Crowns can effectively correct such concerns, and protect your (natural or implant) tooth. And where more extensive dental work is required, crowns can be used in conjunction with veneers.
Due to its cosmetic nature, veneers are typically not covered by dental insurance, which covers dental crown procedures.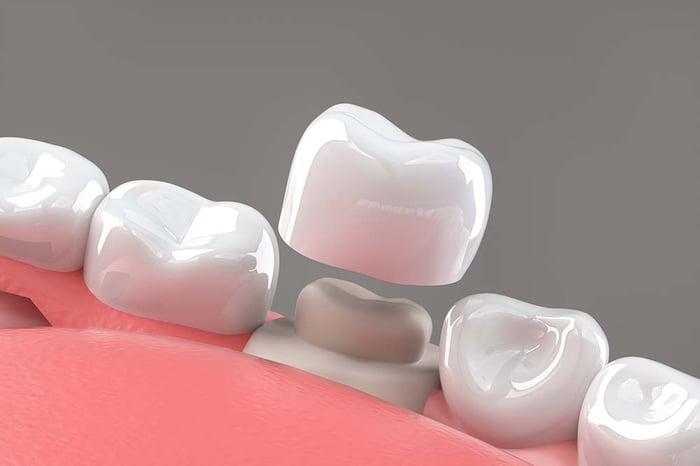 Advantages of having Dental Crowns
Dental crowns are an effective solution for severely cracked or damaged teeth, which cannot be fixed with veneers. A crown shields your tooth from further damage such as cavities, while enhancing its appearance.
Crowns are usually more resistant than veneers. They are available in a wide array of materials ranging from precious metals to zirconia. As they are not considered primarily cosmetic, most dental insurance plans provide coverage.
The procedure is relatively simple; you can resume your daily routine after recovering from the effects of anaesthesia.
Disadvantages of having Dental Crowns
Since the procedure usually involves placing just one or two crowns at a time, fixing a full set of teeth can become longer and costlier with veneers.
It is more invasive to the natural tooth too; the tooth must be prepared through sculpting in order to accommodate the crown.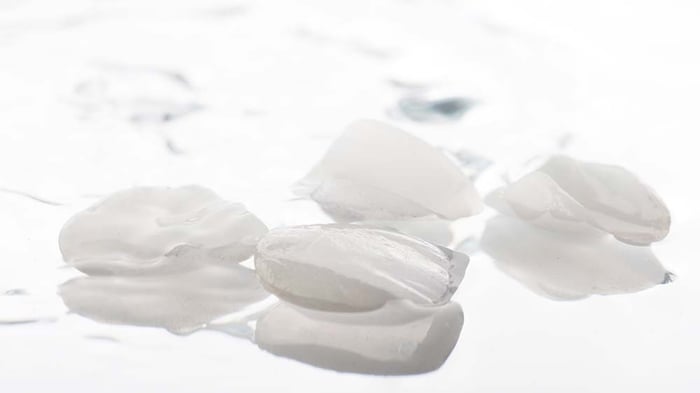 Types of Dental Veneers available
Veneers usually differ based on the ceramic or composite materials used and on the application procedure. Nuffield Dental offers porcelain and composite bonding veneers, both serving the same purposes with different properties in terms of durability and stain-resistance.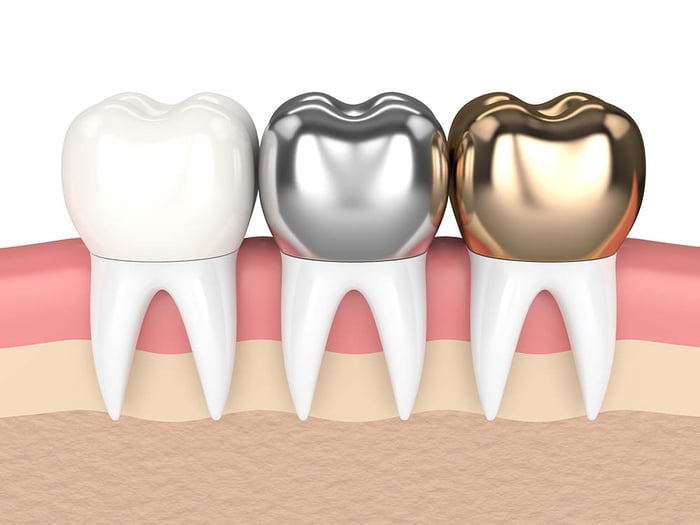 Types of Dental Crowns available
Nuffield Dental offers a wide range of dental crowns in various materials such as precious metal, porcelain fused with metal, lithium disilicate, zirconia and stainless steel. The difference in materials is justified by characteristics, and commonly focuses on strength.
Ceramic is favoured by many as it is a long-lasting material. The colour also ensures it blends in perfectly with other teeth.
How long do Veneers or Crowns last?
With proper oral hygiene and some extra care, both veneers and crowns can last for a long time or even for. Porcelain veneers, for example, are more durable and can last 10 to 20 years. With regular maintenance, crowns can even last you a lifetime.
Veneers vs Crowns - Price Comparison
| | | | |
| --- | --- | --- | --- |
| | Composite Veneers | Porcelain Veneers | Dental Crowns |
| Low-end | $400 per tooth | $1,000 per tooth | $800 per tooth |
| High-end | $800 per tooth | $1,500 per tooth | $2,000 per tooth |
| Average | $600 per tooth | $1,250 per tooth | $1,400 per tooth |
Price differences between veneers and crowns depend on material and complexity. Durable materials are naturally more expensive. Other factors that can determine the cost include:
Number of sessions

X-rays, scans and imprints

Dental facility

Severity of oral health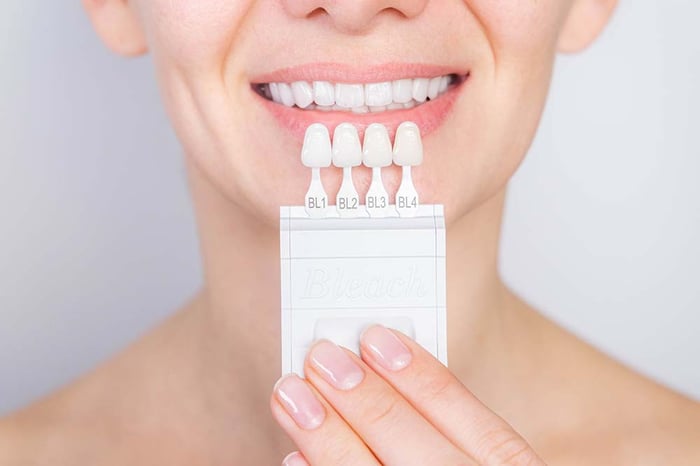 Veneers vs Crowns - Which is right for you?
Veneers are popular as a solution to many dental cosmetic issues. Besides addressing concerns such as discoloration and stains and chips, veneers can also improve the appearance of crooked teeth. Veneers are effective for enhancing your smile.
Veneers may not be able to solve more complex dental issues like extensive breakage; that's where crowns come in.
Crowns can restore the shape and colour of your pearlies, while protecting them from further damage. For more severe cases, additional procedures may be required before a crown is applied. So consult your dentist about the details.
Why Nuffield Dental for veneers and crowns?
As a one-stop multidisciplinary dental group, Nuffield Dental wants to put you first with personalised services based on needs and preferences.
Our dentists have a special interest in prosthodontics and cosmetic dentistry, and they are experienced and clinically trained to provide a smooth, comfortable experience that helps achieve healthy, confident smiles!
What are the risks of veneers and crowns?
Sometimes (although rarely), you may not be satisfied with the look and feel of these veneers or crowns. These procedures are irreversible, so it's important to research your treatment options thoroughly by consulting your dental care provider.
Other risks of veneers and crowns may be related to the material with which they are made. Porcelain is a good option if you have sensitive teeth as it does not contain metal ions that can cause corrosion. Gold is ideal if you are allergic to materials such as nickel and palladium.
Veneers and crowns can result in serious health problems if treatment is not performed properly. The risks include sensitivity, infection and pain in the jaw joint.
Do crowns look as good as veneers?
Well-crafted crowns can look just as immaculate as veneers. An experienced and reliable dentist will be able to help you achieve that dream smile with either.
References
Alani, A., Kelleher, M., Hemmings, K., Saunders, M., Hunter, M., Barclay, S., Ashley, M., Djemal, S., Bishop, K., Darbar, U., Briggs, P., & Fearne, J. (2015). Balancing the risks and benefits associated with cosmetic dentistry – a joint statement by UK Specialist Dental Societies. British Dental Journal, 218(9), 543–548. https://doi.org/10.1038/sj.bdj.2015.345
Fahl Jr, N., & Ritter, A. V. (2020). Composite veneers: The direct–indirect technique revisited. Journal of Esthetic and Restorative Dentistry, 33(1), 7–19. https://doi.org/10.1111/jerd.12696
Lindberg, S. (2021). How long does a crown last? Average lifespan of a dental crown. Healthline. https://www.healthline.com/health/how-long-does-a-crown-last
Dental crowns: What are they, types, procedure & care. Cleveland Clinic. (2020). https://my.clevelandclinic.org/health/treatments/10923-dental-crowns